June 15th, 2021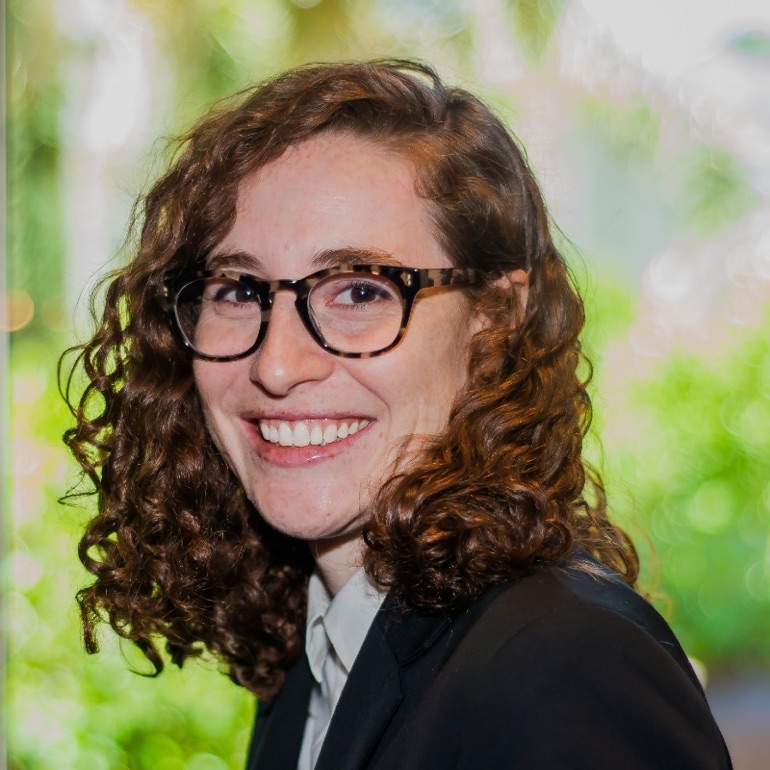 Member Profiles - Lindsay Cherry and Hanwha Q CELLS
Lindsay Cherry has worked in the energy and environmental space for the last ten years; today, she is Market Intelligence and Policy Manager for Hanwha Q CELLS. She started her career at the Natural Resources Defense Council (NRDC), working in the Oceans Program and Climate and Health Program. Since entering the industry, she has worked on energy and sustainability policies in New York, microgrid policies in Puerto Rico, and the clean energy certificates program in Mexico.
Prior to joining Q CELLS, Lindsay was a solar analyst with Wood Mackenzie (formerly Greentech Media Research), focusing on solar technology and system pricing. She earned a Bachelor of Arts in International Relations from Boston University and a Master of Public Administration from Columbia University, where she concentrated in energy and environmental policy
Can you tell me a bit about Q CELLS' business? Where are you situated in the solar supply chain?
Q CELLS is a global energy solutions provider jointly headquartered in Korea and Germany. Our core business is solar cell and module manufacturing, which we've been doing since 1999. The U.S. is our largest market and in 2019 we opened a 1.7 GW module factory in Dalton, Georgia. It is the largest factory of its kind in the Western Hemisphere and from there we sell into all three solar market segments. We are proud to be the leading vendor by installations to the U.S. residential and commercial solar markets.
Your modules have competed well in the French tender system that prioritizes low embodied carbon and have been highly rated in the similar South Korean program. Tell me how you produce modules with low embodied carbon.
It is all about sourcing the right materials from the right places, like solar components produced with small carbon footprints, and optimizing our own operations. We are excited to be producing low-carbon modules for the French and Korean markets. France and Korea are the first movers in pushing embedded carbon policies that recognize minimal greenhouse gas emissions across the supply chain.
Q CELLS was the first manufacturer to qualify under the Korean carbon certification program, and we earned a grade 1 certification. We take our low-carbon initiatives seriously because our ultimate goal as a manufacturer is to produce not only high-quality, top-tier products, but also to lower greenhouse gas emissions to ensure a more sustainable future for the planet.
In addition to working to lower the embodied carbon in modules, Q CELLS Korea became the first renewable energy manufacturer to join the Korean RE100 program, which is a corporate pledge to transition our own operations to renewable electricity resources.
What do your energy sources for your plant in Dalton, Georgia look like? Do they help you to lower the carbon footprint in your manufacturing operations? Are there other ways you help to produce modules with a low carbon footprint?
The U.S. still has a long way to go to minimize carbon emissions, but on average, manufacturing in the U.S. is less carbon intensive than most other parts of the world. Northwest Georgia, where our plant is located, has a large amount of hydroelectricity and Georgia ranks 9th in the U.S. by solar capacity installed.
Our factory in Georgia offsets a portion of its energy consumption through a solar carport located in the factory parking lot. The carport uses modules that were produced in the Georgia factory and feed directly into our operations to help offset a percentage of Q CELLS's electricity usage.
Is Q CELLS seeing growing market interest in your panels because of their low embodied carbon?
We are happily surprised at the attention that low carbon solar is receiving. The Ultra Low-Carbon Solar Alliance has only been in existence for a year, but in this short amount of time, we've seen a positive response to the concept. I think there is especially a growing interest amongst some of the larger corporations with ambitious climate goals. These are the types of market movers who are leading in the environmental, social and corporate governance space and making huge strides to reduce their carbon footprints.
Are there any particular projects using Q CELLS modules that you would highlight as successful ULCS applications?
There is a growing number of projects that use our low-carbon certified modules in Korea and France, given their forward-thinking and climate-focused carbon footprint (CFP) rules. CFP systems in Korea and France measure the total carbon emitted in the manufacturing process of the module, all the way from the processing of polysilicon through the module's frame. Projects that utilize modules with low-carbon emissions are prioritized.
Q CELLS was the first module manufacturer to qualify for the Korean CFP system, earning a Class 1 rank for our modules. In France, our Q.PEAK and Q.PEAK DUO module series qualified for the French tender system. They achieved a certified carbon footprint of 300 kg-eq/C0²/kWc, on the order of ½ the carbon footprint of modules from a higher carbon supply chain and among the lowest in the world. Q CELLS has won several projects in both France and South Korea to-date, with expectations that Korea and France's solar markets will see significant demand growth in the next five years, which of course will mean more low carbon solar deployments.
Is there anything that you would like to see change in the solar industry in the next decade?
We are an evolving industry and there is a lot of work that needs to be done to sustainably scale the supply chain to meet growing demand. Over the next decade, our hope is to establish a more globally diversified supply chain that minimizes carbon emissions at every step of the manufacturing process.