April 26th, 2021
We're continuing our member interview series with David Verdu of REC Solar Norway AS! You can learn about how REC Solar is a part of REC Group, and how the company is slashing its carbon footprint below.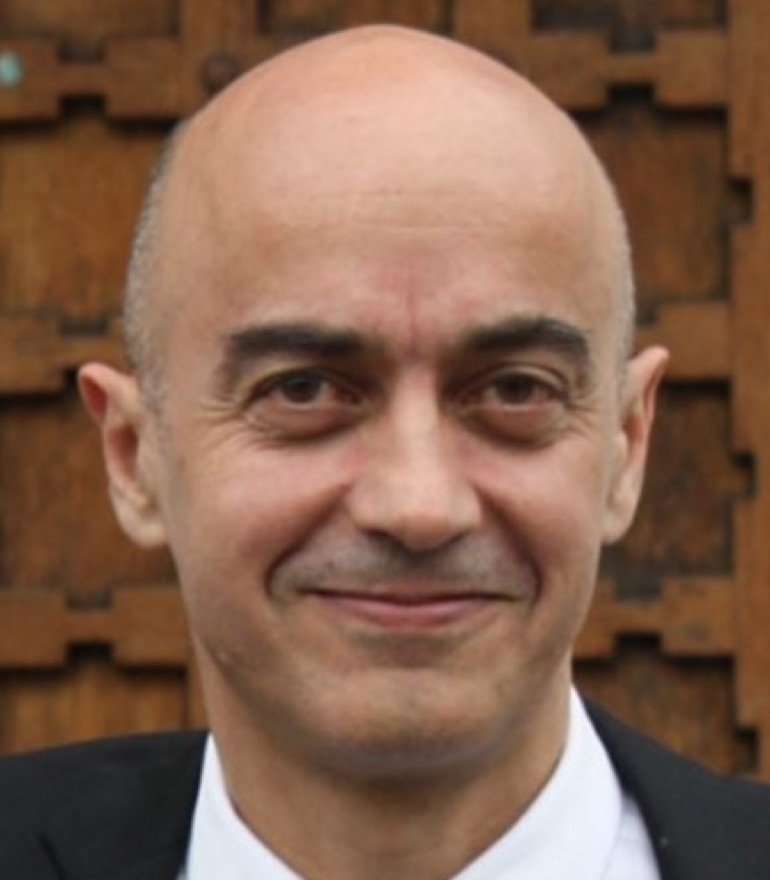 Member Profiles - David Verdu and REC Solar Norway (REC Group)
David joined REC Group in 2017 and holds the position as managing director of REC Solar Norway. He holds an M.Sc. in inorganic chemistry from the Norwegian University of Science and Technology. Prior to joining REC, David was employed with Heidelberg Cement Group. He spent 22 years with the company and held several positions in different functions in the Norwegian operations. His key areas of responsibility were productivity, cost improvement and innovation. He held positions such as laboratory manager, quality manager, R&D manager, production manager and plant manager. During his tenure with the company, he was located in the Middle East for four years as part of the management team.
Can you briefly explain where REC Solar Norway AS is situated in REC Group, and in the larger solar supply chain?
REC Solar Norway is a subsidiary of REC Group - an international pioneering solar energy company dedicated to empowering consumers with clean, affordable solar power in order to facilitate the global energy transition. REC Group was founded in Norway in 1996 and has its headquarters in Norway, operational headquarters in Singapore, and regional bases in North America, Europe, and Asia-Pacific.
As a subsidiary, REC Solar Norway produces high purity silicon for use in solar cells, using a unique metallurgical purification method that consumes upwards of 75% less energy than typically competing processes, e.g., the Siemens process as used by the majority of the industry players, mainly in China. We have an annual production capacity of more than 8,000 Mt, corresponding to an annual solar panel production of about 2.5 GWp.
Silicon for solar panels is quite an energy intensive to produce, which can mean high levels of embodied carbon depending on the energy source and manufacturing efficiencies. What does the carbon footprint of your products look like?
By comparing REC's current silicon to polysilicon produced by using the standard Siemens process, which is the dominant production method in the industry, we achieve:
Up to 75% lower energy consumption;
Up to 90% lower carbon footprint (compared to manufacturing locations in China, where the bulk of polysilicon production is located) thanks to an energy efficient process and hydro power as the main energy source.
In a qualification process for the French market performed in 2017, the production of REC's polysilicon is associated with 14.385 kg CO2-eq / kg. This number is calculated in a cradle-to-gate Life Cycle Assessment (LCA) performed by an experienced 3rd party consultancy agency, reviewed by another independent party and in the end certified by the French company Certisolis. A recently reviewed LCA update showed that process improvements have resulted in an ever lower environmental impact of 11.2 kg CO2-eq / kg.
For REC's new E2M silicon product, the savings on energy consumption and the reduction of carbon emissions are even higher. The carbon footprint of REC's E2M, based on recycled wafering kerf, is expected to be as low as 6-7 kg CO2-eq/kg E2M.

I understand that you recycle kerf in your process. What role does that play in your energy use and carbon footprint?
REC is embarking on the next big innovation in order to further reduce energy consumption and carbon footprint: Kerf Recycling. During the standard wafer slicing process, around 30% of the silicon remains as low value by-product ("waste") known as kerf.
REC invented a new innovative kerf processing technology which allows to fully upgrade this otherwise wasted silicon1 material to a quality level that can be easily reused in wafer and solar panel production. This innovation will allow to further reduce the carbon footprint of REC's silicon by around 60%! As previously mentioned, the carbon footprint of REC's E2M, based on recycled wafering kerf is as low as 6-7 kg CO2-eq/kg E2M.
Kerf recycling is not only an important innovation for REC, but also for the entire solar industry considering the huge amount of kerf which is generated.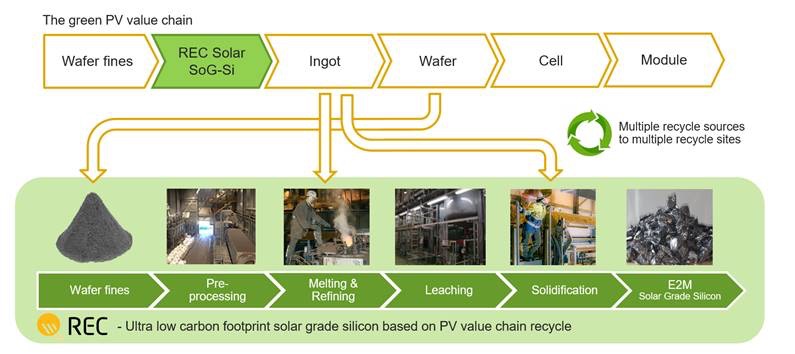 1"Wasted" as lost for the solar grade silicon value chain, but not wasted as such. Wasted silicon is often used as addition in aluminum or cast-iron production.
You just got a significant recognition with your EPD certification. Can you tell us more about that?
EPD Norway has approved and published Environmental Product Declarations (EPDs) for solar grade silicon made by REC. With an EPD for solar grade silicon, authorities, developers and individual customers can objectively assess their choice of solar PV product with respect to its embedded carbon footprint. Although solar panels do not generate emissions once installed, the production methods of a panel can differ significantly. REC Group has always been committed to a low carbon footprint in its solar materials and panels and is continuously striving to make manufacturing more efficient and save on resources.
The Environmental Product Declaration is an independently verified and registered document that communicates transparent and comparable information about the life cycle environmental impact of products. The EPD-system is the most widespread documentation method for life cycle-based evaluation and makes it possible to compare the environmental impact of different products of the same category.
What kind of energy powers your operations?
The vast majority of electricity used in REC Norway's operations is based on hydro power. It is also important to mention the fact that REC's metallurgical purification process route for solar grade silicon requires a minimum of energy compared to competitive processes.
Are there other ways you help to drive down your carbon emissions?
In general, over the last 25 years, REC has continuously strived for innovation in our manufacturing processes and our solar products in order to reduce resources as much as possible while empowering people with high-efficient solar panels.
REC Group has done this by:
Installing a PV system at the Singapore manufacturing facility which enables REC to save CO2 emissions by reducing the need for electricity from the grid.
2) REC's flagship product – the REC Alpha solar panel – also helps to substantially reduce the carbon footprint of end-customers (i.e., homeowners and businesses). We have the following example for a residential solar system: A 6.1 kW installation (~16 x 380 Wp REC Alpha panels) creates over 7,200 kWh of clean energy per year. This cuts CO2 emissions of a home by 4.3 tons per year. Equivalent to:
Together with our partners and installers, we consciously increase our solar energy footprint worldwide. By the end of 2019, 10 GW of REC Group solar panels have been installed worldwide, empowering more than 16 million people, generating 13 TWh of clean solar energy. This helps to mitigate 9 million tons of CO2 emissions every year.
How does REC Group poly help your customers produce Ultra Low Carbon Solar modules?
Embodied carbon of PV systems is mainly determined by the raw materials and manufacturing processes of the PV panels. The most energy intense and hence carbon footprint heavy manufacturing step is the polysilicon production. This step contributes to the highest share of the embodied carbon in the final PV system.
If customers decide to purchase REC's polysilicon, they are immediately benefitting from an industry leading low carbon footprint. This drives down the embodied carbon of the entire PV system.
Is REC Group seeing growing market interest in your poly because of its low embodied carbon?
Yes, we do. Especially in PV markets with a focus on carbon footprint like France and South Korea, the products of REC are in high demand as they enable customers to meet tender obligations.
Is there anything that you would like to see change in the solar industry in the next decade?
We expect a stronger focus on circularity and environmental footprint awareness in the industry and among various stakeholders (from homeowners, corporate renewable energy buyers to policy makers). Paying more attention to the content of solar panels, how they are manufactured and especially their carbon footprint, enables a comprehensive sustainable approach and supports a stronger decarbonization of our energy sector. It is not only important that we achieve higher PV system deployment globally, but also pay attention what kind of PV systems get installed.